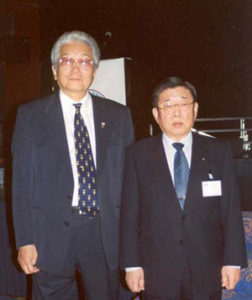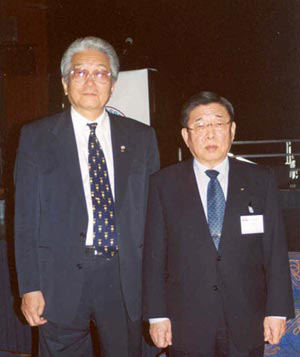 By KIM, UN-YONG
September 4th is a historical day in which I had Taekwondo adopted as an official Olympic sport in 1994 during the IOC session in Paris, which commemorated the 10th anniversary of IOC.
It just so happens that Hong Seungchon has been appointed as the Chairman of the Board of Kukkiwon, while OH Hyun-deuk has been appointed as the President of Kukkiwon. The two of them have now embarked on a new journey, promising a new leap forward for Taekwondo. Since they have devoted their whole lives to Taekwondo, I strongly believe that they will devote themselves to the development of Taekwondo.
Kukkiwon is the World Taekwondo Headquarters, which is the root of the country that gave birth to Taekwondo. In order to fulfill the expectations of Taekwondo practitioners, I established Kukkiwon in 1 year in 1972.
Modern Taekwondo began in 1972 with the foundation of Kukkiwon. In the process of making it into a national martial art, many innovations, growths, and stabilizations were accomplished, such as the integration of 30 "Kwans", unification of the Dan Promotion Test, implementation of instructor training courses, establishment of Dobok (uniform), development of Poomsae, establishment of competition regulations, development of electronic Hogu (protective gear), establishment of a Hanmadang to succeed martial arts spirit, and the opening of Taekwondo Memorial Hall .
Furthermore, striving for globalization after achieving nationalization, Kukkiwon established the 1stWorld Taekwondo Championships and the World Taekwondo Federation in 1973, and joined GAISF, CISM, FISU, Asian Games, Pan Am Games, and the AfricanGames . In the 1988 Summer Olympics in Seoul, Taekwondo was chosen as a demonstration sport, and Kukkiwon was used as the official practice hall. Finally, in the IOC session in Paris in 1994, with a unanimous voting of 85 to 0, it was adopted as official Olympic sport, which occurred with Kukkiwon as the mother organization. Without this reformation and growth, the honor of Taekwondo being adopted as Olympic sport would not have been achieved even today.
In this process, by my own decision, I divided Taekwondo organization into 3 organizations, separating the roles for each organization. Kukkiwon was the root of Taekwondo, Korea Taekwondo Association was the center of the country that gave birth to Taekwondo, and World Taekwondo Federation was the mother organization of global distribution and international sports activities.
The mother organization for all of them was Kukkiwon. Thinking of Korea Taekwondo Association and World Taekwondo Federation without Kukkiwon or the background and support from Kukkiwon, I wonder if it would have been possible for them to become proud organizations looked up by the world, as they are now.
In this process, many world sports leaders came to Kukkiwon and learned about Taekwondo, which they were originally unfamiliar with. These leaders include the IOC President Antonio Samaranch, many IOC members, sports ministers from various countries, president of the International Taekwon-do Federation, president of Olympic Council of Asia(OCA), board of directors of International Military Sports Council(CISM) , presidents of National Olympic Committee(NOC) including USSR, East Germany and USA, and Muhammad Ali.
Taekwondo is an Olympic sport that developed while maintaining the spirit and tradition of martial arts spirit. I am very grateful that the government protects and supports it through domestic laws, and that corporations sponsor Taekwondo. However, those other than Taekwondo practitioners are just temporary custodians, and the owners of Taekwondo are Taekwondo practitioners.
The Chairman of the Board of Kukkiwon Hong Seungchon, who was elected this time, was originally a Taekwondo practitioner, and President OH Hyun-deuk is originally a Taekwondo practitioner as well as an administrator. They have newly launched with a new vision of Taekwondo. Since they are Taekwondo practitioners, I believe that they will devote themselves to develop towards the vision of Taekwondo.
Just as Kukkiwon, World Taekwondo Federation, and Korea Taekwondo Association formed a trinity and strove for the creation of Olympic history that surprised the world in the past, it is now time for every one of us to cooperate and put our forces together for the new leap forward for Taekwondo.
Un Yong Kim
Founder of Kukkiwon and World Taekwondo Federation
Former Vice President of the IOC

Share on Facebook
No tags for this post.