March 3, 2011 the Kido Kwan will issue a new style of Black belt cards.  They are shown below and reflect our history while still keeping to a "traditional" look and feel.  The three logos show our lineage with the first (back one) being the logo of the ChungDo Kwan, which was founded September of 1944 by Lee, Won-kuk and then the ITF, which was founded in March of 1966 by Choi, Hong-hi and then the Kido Kwan logo which was founded January of 1988.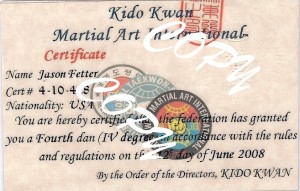 New black belt certificates will be available soon, as will new Kup (color belt) cards and certificate.  If you wish to order the new cards you can contact Lori at anytime.

Share on Facebook
No tags for this post.