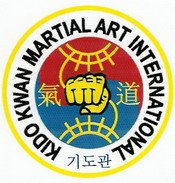 The KIDO KWAN Martial Art International™ was originally founded in 1988 as the Korean Kido Kwan™ to represent the Korean based martial arts of Taekwon-Do (ChangHon & ChungDo Kwan), Hapkido and other martial arts as well. With the first school being under the direction of Master Kim, Yong-son at both his Kim's Taekwon-Do locations on the East and North Side of Evansville (IN). After Master Kim's departure the schools were "passed" into the hands of two of his black belts, with one staying on the east side and the other on the north. The east side location soon closed due to the lack of consistent instruction and the north side flourished and soon moved in to a much larger and well equipped location inside Living Well Fitness Center™ (Mill Road) just to the north of their location on First Ave. (next to House of Hong Kong).
1990 saw growth of the Korean Kido Kwan™ when the head instructor had moved to Columbus, GA. and left the day to day operations of running the Evansville Club to three other black belts. So in October 1990 the Kido Kwan™ grew to two locations! The 90's saw a consistent growth in both locations, and by 1995 two other clubs were established by Kido Kwan™ black belts as they moved due to work, school or military service. By 1999 the Kido Kwan™ had locations in Indiana, Illinois, Kentucky, Tennessee, Georgia, Mississippi, and North Carolina. In December 2001 the Kido Kwan™ moved its headquarters school back to Evansville, and has seen growth in all the surrounding counties as well. Today the Kido Kwan™ is well established with several part time and full times clubs. We have a dedicated staff to run the web pages, and our prized Kido Kwan Discussion Forum!
The Kido Kwan Martial Art International™ has been or currently is a member of the International Taekwon-Do Federation®, United States Taekwon-Do Federation®, KoreAmerica Taekwon-Do Union, the United State Taekwondo Union®, USATaekwondo®, United State Taekwondo Won™,North American Hapkido Association, World Hapkido Federation,  World Song Moo Kwan Association, World Hanmudo Association, and other national and international bodies of martial arts.
The Kido Kwan Martial Art International™ welcomes all martial artists interested in expanding their education and perpetuating their skills into the future. Our purpose in the Kido Kwan™ is to preserve General Choi's Taekwon-Do as well as to continue and create, innovate and perpetuate the ever changing, fascinating art of Taekwon-Do.
The Kido Kwan Martial Art International™ has developed a reputation for maintaining a very high level of proficiency in the art, coupled with sound ethics. We are a synergistic group striving to be humble, honorable, responsible and respectful. We also strive to reach the highest level of perfection, developing our physical, mental, emotional and spiritual thoughts and actions. Our trained, professional Instructors possess extraordinary skill, talent, knowledge and wisdom. Their leadership qualities provide a positive atmosphere, which is coupled with innovative and progressive training ideas designed for those students who would like to learn Taekwon-Do the way General Choi, Hong-hi intended it to be. Only this way can we all truly perpetuate the art of Taekwon-Do into the future. Our instructors, students, and new members of the Kido Kwan™ are encouraged to seek continuous improvement, and constant innovation. As mentioned before, we must continue to break traditional ways of thinking, realizing that a Taekwon-Do practitioner may make small improvements by developing new skills. Quantum leaps and revolutionary advances in the martial arts require new road maps and new paradigms. This offers distinctively new ways of thinking about old problems.
All of us in the Kido Kwan™ have worked hard to develop and provide for our members a distinctively unique method of sharing and teaching the updated techniques, self defense and patterns. This creative, innovative, progressive and logical approach expedites the students' comprehension by internalizing his/her mind and motion, so they can perform at maximum potential. Therefore, the student can achieve their goals (both short and long-term) in a very efficient, productive and professional manner. This will allow them the opportunity to achieve the rank of Black Belt in as little as 1250 hours of training, and will ensure the quality performance, understanding and knowledge necessary to gain self-mastery of the individual, as well as success in the art of Taekwon-Do. The Kido Kwan™ has gained its reputation by building on quality and logic; these main building blocks are standard universal requirements for establishing a firm foundation. We have a solid structure and a very stable association. We currently have over a 93% retention rate (for black belt and color belt students).
The Kido Kwan™ has achieved worldwide credibility, recognition, and exposure. We have accomplished this by developing and producing hundreds of extremely creative and proficient Taekwon-Do practitioners, as well as many of black belts throughout the world. And of course sharing and promoting the exchange of information that is not readily available at least not free from other sources if at all!
When becoming a member of the Kido Kwan Martial Art International™ AKA Kido Kwan™, one will attain prestigious and unparalleled status in an organization with an unquestionable professional standard of excellence, and quality. We are inferior to none, equal to any, superior to many – SINE PARI!
Gwen F. Hall, 9th Dan
Director of the Kido Kwan

Share on Facebook
No tags for this post.